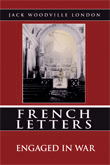 Disclaimer: A copy of this book was provided by Phenix and Phenix Publishings for review. The views expressed here are honest and are in no way influenced by the author or the publisher.


Published: September 14th by Vire Press
Synopsis

French Letters: Engaged in War, is the second book in the French Letters Trilogy. The companion to Virginia s War, it is the story of Will Hastings, an army doctor caught up in the D-Day landings in Normandy and the drive to capture St. Lo, France. Isolated from Virginia Sullivan and the events taking place at home, Will faces the demands of combat surgery under fire and the losses of his brother, his friends, and his connection to home. Historically accurate and precise and covering events from exactly the same time frame as the events in the first volume, Engaged in War is a novel of the will to survive when war, distance, loss, and the uncertainty of the future separate a couple far beyond the breaking point.

My Review

French Letters: Engaged in War is the second book in the French Letters trilogy by Jack Woodville London. From what i gather about Engaged in War, the books are based on World War 2 and they chronicle the relationship between Captain Will Hastings; a medic serving in the war and Virginia, his love back in Texas. The story has a very unique plot, quite a few interesting characters and its written in a prose that is witty and intelligent but sadly i didn't quite enjoy this story.

While i try to read all genres on this blog, i think that books based on war or the military are really not for me. Honestly the author did a good job making the story very authentic as it was chocked fill with military jargons but most if not all of these either flew over my head or left me feeling kind of bored.

Also the prologue was completely different than what the story turns out to be and that was a major disappointment for me. I got really excited and even imagine what the outcome of Engaged in War would be but it just seems to me as though the prologue was totally unrelated to the story or rather it was the prologue to another story and not Engaged in War. I kind of questioned why it was included in the book in the first place.

There are also a lot of characters at play and several stories that develop within the main plot. All of which are connected somehow or rather somewhere in the book. At times you begin to feel as though the author is jumping from story to story and that's probably because of how the book is written or laid out. However the connections are there and the readers have to be quite vigilant about them.

Additionally the story was slow to develop. It took me approximately 85 pages to understand what the story was all about and even then, it wasn't as clear cut as i had hoped it would be. Reading it reminded me of my experience reading The Fountainhead by Ayn Rand. That story developed really slowly but it grew into an amazing story in the end. I kept waiting for the amazing story to come through in Engaged in War but after a few chapters and with the same result, i had to retire this read.

I think that most of the problems that i had with this book was as a result of starting midway in the trilogy. I have not read book one
Virginia's
War yet and i'm pretty sure that there are a lot of explanations there that would have helped me understand Engaged in War better. Also it seemed as though i had to have a lot of patience to read this book. However having just come out of a lapse in my reading routine, patience was the last thing that i had.

Just because i didn't like this book, doesn't mean it wasn't any good. In fact while doing my research, i came across a few reviews on Amazon.com for Engaged in War and also for Virginia's War. Take a look at them and then you be the judge about adding this one to your reading pile.